Back to top
News and Announcements
Winslow Township School Board Honors WTHS Teacher, Mr. Pino, and WTMS Student, Marchella Mazzoni

On Wednesday, May 8, 2019, the Winslow Township School Board recognized Mr. Pino, English Teacher, and WTMS Student, Marchella Mazzoni.

2019-2020 Budget Presentation

The Winslow Township School District 2019-2020 Budget was presented at the Board of Education Meeting on May 1, 2019. Please select the link to view the presentation.

2019-2020 Citizens Advisory Committee Search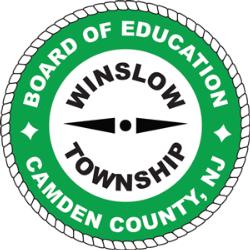 The Winslow Township Board of Education is seeking members for its Citizens Advisory Committee. If you are a Winslow Township resident, 18 years or older, interested in serving on this Committee, please print and complete the bottom portion of the flyer, by no later than May 31, 2019, and return to the Board of Education Office.

2019-2020 Preschool and Kindergarten Registration
Winslow Township School District will be begin registering students for the 2019-2020 full-day kindergarten and preschool programs.

2018-2019 Update on District Goals Presentation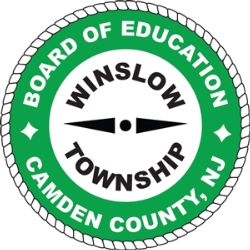 Dr. Poteat, Superintendent, presented an update on the 2018-2019 District Goals during the April 10, 2019 Regular Board of Education Meeting.

The South Jersey Sports Weekly Article on WTHS Senior Tionna Tobias

The SJ Sports Weekly Q&A with Winslow Township High School senior and Iowa commit Tionna Tobias, who has five state individual titles, has helped lead the Eagles to four of their six straight outdoor Group 3 state championships, and has Olympic aspirations.

The Board of Education is Currently Accepting Requests for Proposals (RFPs), Bids, and Quotes

The Winslow Township Board of Education is accepting Requests for Proposals (RFPs), Bids, and Quotes.

WTHS Indoor Guard Accomplishments (Weekend of March 23, 2019)

On Saturday, March 23, 2019, the WTHS Indoor Winds Ensemble, Dance Ensemble and Indoor Guard performed at the Pemberton TIA Competition.

Winslow Township High School Girls Track Team Honored at Board Meeting

The Winslow Township High School Girls Track Team was honored at the School Board's regularly scheduled meeting on March 13, 2019.

Township of Winslow Community Events

The Township of Winslow has several activities/events scheduled in the upcoming months. Please see the attached flyers for more information.